Craine Air Conditioning is a family owned and operated company servicing the New York Metropolitan area. Established in 1971 by William Craine, the company now includes sons Sean and Brendan and a team of talented and dedicated employees. Sean is responsible for field operations while Brendan handles sales and marketing. William continues to oversee daily operations for the company.We specialize in commercial and premium residential air conditioning, heating and ventilation.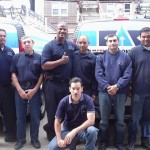 The scope of our work includes designing, installing and servicing various types of equipment in schools, computer rooms, health care facilities, offices, retail stores, house's of worship and private residences.

We are a company with a broad range of projects to our credit. From elaborate LEED platinum projects like installing a chiller plant for a mixed use space with an after hours air cooled system for the computer room to more moderate jobs such as replacing a 15 ton Carrier rooftop package unit. As well as specialized jobs such as installing a Mitsubishi City Multi system linked to your homes Creston controls.

Craine Air Conditioning has a commitment for quality and customer satisfaction. Our customer base is built on recommendations by our satisfied clientele. We have cultivated relationships with all our clients and it remains the backbone of our company philosophy. We're  a certified company to install and service Daikin VRV and Mitsubishi City Multi systems, another reason why you can count on us.
Proud Members